Description
Introducing our captivating 9pc Sticker Set, a curated collection of stickers designed to add a touch of wonder and personality to your world! This set features a carefully selected assortment of enchanting designs that will spark your imagination and make your belongings come to life.
Product Usage:
Scrapbooking and Journaling: Decorate your scrapbooks, journals, or diaries with these Kawai Cat Stickers to bring life to your memories. Stick them next to photos, write notes around them, or create themed pages with a feline flair.

Greeting Cards and Gift Wrapping: Add a delightful surprise to your greeting cards or gift packages. These Kawai Cat Stickers are perfect for sealing envelopes, embellishing gift tags, or creating unique wrapping designs that are sure to bring smiles to the recipients' faces.

DIY Crafts and Home Decor: Unleash your creativity and use these stickers in various craft projects. Personalize your phone cases, laptops, water bottles, or any smooth surface that needs a touch of cuteness. Stick them to your laptop or phone to showcase your love for cats and add a playful element to your devices.

Adorn Personal Belongings: Express your love for cats by sticking these adorable Kawai Cat Stickers on your water bottle, notebook, tablet, mobile, laptop, IOT or any personal item. It's a great way to add a pop of charm and showcase your unique style.
Whether you're a student, an artist, or simply someone who appreciates beautiful aesthetics, our 9pc Sticker Set is a must-have addition to your collection. Let these stickers be your creative companions, inspiring you to explore new ideas and express yourself in delightful ways.
Indulge in the magic of self-expression and adorn your world with the captivating designs of our 9pc Sticker Set. Get ready to turn heads and spread joy as you showcase your unique style and creativity with these charming stickers.
Product photos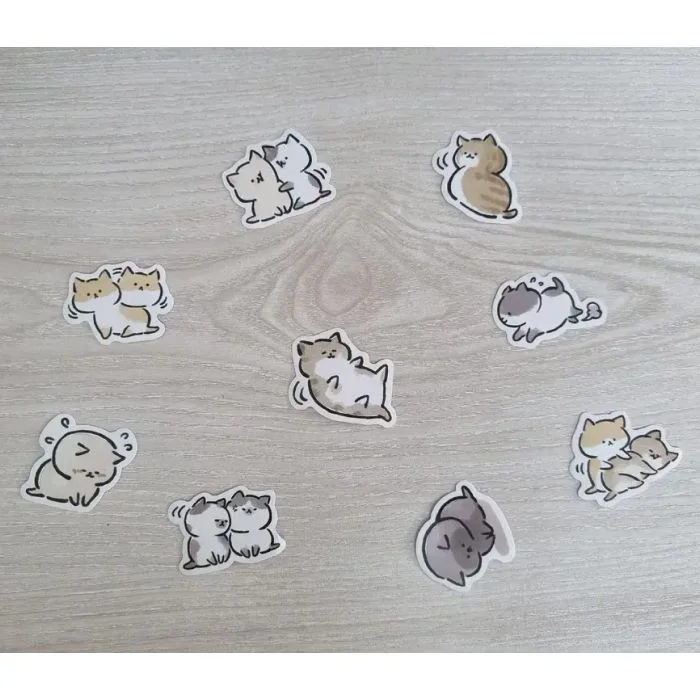 Important details:
We don't have any return policy for this product.
⚠ Please note that the color of the product may slightly vary due to lighting and display settings.
Buy "Kawai Cat Stickers (9pcs)" from the best digital shop in Bangladesh: EduportalBD - Shop
In Bangladesh, you can get the genuine "Kawai Cat Stickers (9pcs)" From EduportalBD - Shop. You can purchase this with bKash, Rocket, & Nagad without an international credit card. We have a large collection of the latest products to purchase. Order online to get yours at the lowest price.
What is the price of "Kawai Cat Stickers (9pcs)" in Bangladesh?
The latest price of "Kawai Cat Stickers (9pcs)" in Bangladesh is Tk.70. You can buy the "Kawai Cat Stickers (9pcs)" at best price from EduportalBD - Shop